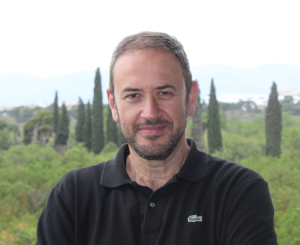 Christos was born in Athens in 1969; he is married and has two twin daughters. Between 1987 and 1992 he studied Sociology at Panteion University. In 1991-1992, he attended courses in Social Anthropology at Brunel University in London. From 1995 to 1997 and 1999 to 2001 he attended and completed the Training Course in Systemic and Family Therapy at the Laboratory for the Study of Human Relations.
In 2003 he obtained a Masters Degree in Family Therapy (MSc) from the Institute of Psychiatry at King's College, University of London.
In 2005 he completed the postgraduate course in "Design and management of community-based programs for the prevention and treatment of drug addiction" by the Training Institute of KETHEA, in partnership with the Sociology Department of the National School of Public Health, the Psychiatry Department of the University of California, San Diego, and the Department of Social Work at Boston University.
In 2006 he completed the two-year professional course for trainers and supervisors at the Laboratory for the Study of Human Relations. He has participated and presented at seminars and conferences in Greece and abroad, on topics relating to Family and Couple Therapy, Youth and Adoselsce, Substance Abuse and Addiction, and Process Work.
From 1992 to early 2008 he worked at the Addiction Treatment Center of KETHEA, primarily with adolescent drug users and their families. Both as a therapist and as director of treatment programs, he has been engaged in all stages of treatment, with young users, and with their parents and siblings (STROFI and PLEFSI).
Since 2005 he has been working at the Laboratory for the Study of Human Relations as a trainer and supervisor and maintaining a private practice in Marousi.
In 2001 he became an Internationally Certified Alcohol and Drug Addiction Counsellor (CAC). In 2007 he was accredited by the  National Organisation for the Certification of Qualifications & Vocational Guidance (EOPPEP) (previously known as  National Registry of Trainers S.E.K., part of E.KE.PIS).
He is also a member of the Hellenic Association of Systemic Therapy (HELASYTH), the European Family Therapy Association – chamber of individual members), and the UK Association for Family Therapy and Systemic Practice.