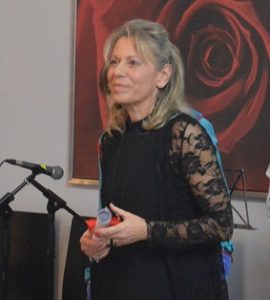 Eleni was born in Athens and is a mother of two. She maintains a private psychotherapy practice and together with Leto Katakis directs the Counselling and Psychotherapy Service of the Laboratory for the Study of Human Relations.
She studied psychology at Picardie University, in Amiens, France, and was trained in Systemic Psychotherapy by Charis Katakis at the Laboratory for the Study of Human Relations. She also specialized in Family Therapy and the Systemic Approach through a two-year program under the direction of Dr. Mony Elkaim. She trained in Focused Expressive Psychotherapy (F.E.P.) and the treatment of trauma and post-traumatic stress through Eye Movement Desensitization and Reprocessing (E.M.D.R.), by Dr. Volioren, Professor at Hebrew University of Jerusalem.
She has been a member of the Scientific and Educational Faculties of the Laboratory for the Study of Human Relations, and a trainer and supervisor in the Systemic and Family Therapy Training Course. Since 1991 she has been supervising systemic therapists, in her private practice and in collaboration with the training department of LSHR. Since 2008 she is a supervisor on the clinical branch of the scientific organization MERIMNA (Intervention and Bereavement). She has also coordinated numerous seminars in public and private organizations.
She has participated in two research programs: "Psychosomatic Symptom Transformation During Psychotherapy" by the Laboratory for the Study of Human Relations, and "Pupils' Needs and Substance Abuse"  by the Psychiatric Clinic of the University of Athens.
She has and attended and participated through workshops and presentations in numerous Greek and international conferences, workshops, etc. Her paper "On life and death" appears in the book With an Eraser and a Mirror. Her interviews have featured in national newspapers and magazines. She is on the governing board of the Hellenic Association of Systemic Therapy (HELASYTH). She is also a member of the Association of Greek Psychologists (SEPS), the European Family Therapy Association (EFTA), the International Family Therapy Association (IFTA) and the European Association of Psychotherapy (EAP).