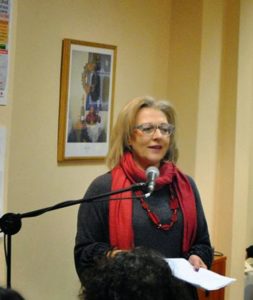 Maria Pyrounaki-Lyonis
Maria Pyrounaki-Lyonis was born in Athens, studied Psychology (B.A.) at Deree-Pierce College, and in 1976, gained her Masters in Counselling Psychology from Ball State University in Athens. In 1994 she received her Ph.D. in Social Psychology from the University of Bath, England, on the topic of "Greek adolescents' conceptions of community transactions".
Between 1974 and 1976 she trained and interned at the Athenian Insitute of Anthropos (AKMA), specializing in General Systems Theory, Psychological Assessment, Urban Family Dynamics and Process Work. From 1989 until 1993 she trained in Systemic and Family Counselling and Psychotherapy at the Laboratory for the Study of Human Relations (LSHR).
She is accredited by the  National Organisation for the Certification of Qualifications & Vocational Guidance (EOPPEP) (previously known as the National Registry of Trainers S.E.K., part of the E.KE.PIS.), with registration number 21001.
She is primarily involved in family and individual psychotherapy and counseling, supervision of human systems (institutions, organizations, counselling centers, etc.), and education.
She also works as a trainer in corporate settings, conducting in-company and inter-company workshops and seminars for business executives and organizations (1989 to present).
She set up and directed the Department of Human Relations at Elefsis Shipyards (1992-1996) for four years.
She is a scientific advisor and training manager in two community outreach programs: Elefsis Friendly Nest (1975-2005) and "Happy Children – Happy Youth" Camp (1975 to date).
As an Associate of the Laboratory for the Study of Human Human Relations, she has directed and coordinated the community intervention "Meaning in Our Lives" for the area of West Attica, a three-year program by the National Organization Against Drugs  (OKANA), designed and implemented by the Laboratory for the Study of Human Relations (3/1996-5/1999).
Also as an Associate of the LSHR, she oversaw the design and delivery of an experiential training module at Harokopio University, on Career Guidance and Counselling in Secondary School (10/1999 – 3/2000).
She was a supervisor and trainer on the one-year training course "Systemic Thought and Applications" for mental health professionals (1998-2001), and a trainer and coordinator on the two-year interprofessional educational program "Human Systems: Broadening our professional horizons" (1/2001 to date).
She is also director, trainer and supervisor on LSHR's Training Course in Systemic Therapy for mental health professionals (for the departments of Athens, Thessaloniki, and elsewhere) (10/2003 to date).
She co-designs, teaches, and supervises on the three-year educational program "Counselling and Empowerment", run by the registered non-profit organization "Society for Psychosocial Development" (2001 to present).
She was a trainer on the Pedagogical Simulation Program, part of the University of Athens'  academic module titled Ecosystemic Pedagogy  (9 / 2003-1 / 2004).
She is an associate of the Counselling Centre at Harokopio University (3/2003 to date) and the postgraduate teaching faculty.
She was a human resources supervisor at the "Athens and Piraeus Counselling Centres for Preventing and Responding to Violence Against Women" (1/2009-12/2009).
She has conducted workshops and presentations at numerous national and international conferences.
She is a founding member of the Hellenic Association of Systemic Therapy (HELASYTH) and  the Society for Psychosocial Development. She is a member of the Association of Greek Psychologists (SEPS), the Hellenic Psychological Society (ELPSE), the British Psychological Society (BPS), the European Family Therapy Association (EFTA), The European Association for Psychotherapy (EAP), and Mosaic.