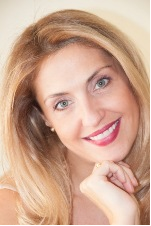 Born in Thessaloniki, Elena completed her undergraduate studies in Pedagogy there, and her degree in Social Work in Athens. She gained an MSc in Mental Health Promotion and the Prevention of Mental Disorders from the Medical School of the National and Kapodistrian University of Athens. She trained in Systemic Family Therapy and the Training and Supervision of Mental Health Professionals at the Laboratory for the Study of Human Relations. She is a Certified Adult Trainer by the National Organisation for the Certification of Qualifications & Vocational Guidance (EOPPEP -previously known as E.KE.PIS).
From 1997 to 2001 she worked in Corfu, at the first Centre for the Prevention of Substance Abuse and Addiction in Greece, focusing on school-based primary interventions on substance abuse and mental health issues. Between 2001 and 2006 she worked at the Training Centre for the Prevention of Drug Abuse and Health Promotion of the University Mental Health Research Institute (https://www.epipsi.gr/), as a trainer and supervisor of mental health professionals working on the network of primary prevention of the National Organization Against Drugs (OKANA) (psychiatrists, psychologists, social workers and others). She also participated in the design and implementation of workshops and seminars on the use and applications of educational materials on substance abuse prevention, on mental health and health promotion in general. From 2006 to 2007 she was the Training Director of the Centre for Social and Professional Integration of People with Disabilities (psychotic disorders, intellectual disabilities, and multiple sclerosis) of the University Mental Health Research Institute.
Since 2003 she has been working with the Ministry of Education and Culture of Cyprus as a Trainer and Supervisor for Educational Psychologists and Secondary Education Teachers (Primary Prevention Programs and Interventions in the field of Mental Health).
She has over 20 years of experience in the education and supervision of mental health professionals, teachers, students in Centres and Institutes for Vocational Training (IEK and KEK), and vulnerable social groups (former drug users and people with psychotic disorders).
She is an associate psychotherapist at the Laboratory for the Study of Human Relations since 2005, and a supervisor and trainer on the following programs: 1. Systemic Counselling Skills and Interventions, 2. Training Course in Systemic Psychotherapy, and 3., Experiential Marathons. Since 2005 she works as a psychotherapist and family therapist in her private practice.
Since April of 2011, she has been working with the Greek Pedagogical Institute as a Trainer on Group and Community Relations in School, as part of professional development programs for practitioners in Education.
She has participated in Research and Pilot Programs and has been actively involved in Scientific Conferences. She has edited the educational resource series "Developing Communication in the Classroom Through Active Learning", (2000), Ministry of Education.
Her work titled: "In search of a face; A Case of Body Dysmorphic Disorder and Systemic Intervention" has been published by LSHR's Working Paper Series (2008).
She is a member of the Hellenic Association of Social Workers (https://www.skle.gr/) the Hellenic (HAC) and the European Association for Counselling the Greek (EAC) Counselling Society, the Hellenic Association for Systemic Therapy (HELASYTH), the European Family Therapy Association (EFTA), the National Organization for Psychotherapy in Greece (NOPG). She has been awarded the European Certificate of Psychotherapy (ECP) by the European Association for Psychotherapy (EAP).