Charis
My career as a psychologist, in all its aspects and manifestations – as a therapist, researcher and teacher,  is  undoubtedly bound to my family roots and identifications. My father was a doctor and my grandmother a teacher at the age of seventeen.  My personal path is interwoven with the trajectory of the women of that time and of our country. Consolidating career and family has been a difficult endeavour, as my professional activities unfolded alongside the priorities that stem from being a mother, and the wife of a scientist with parallel aspirations. I got married at 21; I have two children and five grandchildren.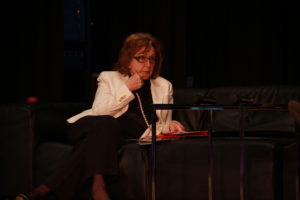 I began my university studies in Germany, continued them in the United States and completed my doctoral thesis at the Aristotle University of Thessaloniki. During that time I also trained as a psychotherapist at the Athenian Institute of Anthropos. My teachers, George and Vasso Vasiliou, had a profound and lasting effect on my professional and personal paths.
I was introduced to systemic theory as early as the mid 1960's and its holistic look on life and knowledge armed me with an invaluable tool: as if a wide-angle lens had been implanted in our brains, enabling us to see the full picture when we seek answers to questions such as who we are, what put us on this path, why we made these choices in life.
In the early 1980s, together with a group of colleagues who had trained with me, we founded the Laboratory for the Study of Human Relations. The Laboratory was to grow into a diverse and multifaceted organization that constantly evolves and expands its scope and horizons. For twenty years, with my colleagues, trainees, and clients we have been collectively striving to harness people's potential to break down inner and interpersonal walls, broaden personal and professional horizons, to promote health and creative coexistence.
As for my writing and publishing work, these too seem to be rooted in my childhood experiences. The stories my mother told often had a psychological subtext. Toward the end of her life, she wrote our family's story. She had it typewritten and handed copies to her children and grandchildren. She must have thought that by keeping us in touch with our past we would more easily find our way in life.
The books I have written and all those included in the series Human Systems, published by the Laboratory in partnership with major publishing houses, are written for mental health professionals and the general public; for all of us trying to adjust to our times and find our footsteps on the wobbly ground of contemporary lived experience.
My theoretical perspective

The holistic theoretical perspectives I have pursued provided an outlet for my need to observe complex patterns of thoughts, emotions, actions and behaviour. The unifying lens through which I have always looked at the world stems from the belief that amid rampant relativism and impenetrable rigidity lies ample and fertile ground for developing unifying holistic concepts, principles, emotional undertones, and communication paths.
My theoretical pursuits, but mostly my experience as a therapist, have convinced me that the versatility offered by a unifying frame of reference can co-exist with the important and necessary delimitations between distinct, self-standing fields of knowledge.
The diversity of personal as well as collective internal constructions and visible behaviours, and the multiplicity of views and perspectives on life have taught me that the most effective way to achieve a deeper, clearer and farthest-reaching look is to perceive things through a wide-angle lens that allows us to integrate and unify the information being exchanged.
In the complex landscape of contemporary societies, there is a need for a broad and accommodating framework that can encompass and bring together our collective knowledge and experience; for a unifying perspective that allows distinct requests and interventions to be integrated within a wide and versatile context.
It is this holistic view of life and knowledge that systemic epistemology offered me. It provides us with a unifying frame of reference which can accommodate and integrate distinct elements of a unified whole. It is this unifying perspective that confronts our fragmented and intricate reality by developing concepts and principles that contribute to its organization.
At a time when the threats facing our planet are firmly tied to our personal and collective choices, all the dilemmas, the arguments, the contradictory perceptions that divide us can be addressed and resolved when we start building bridges between internal, interpersonal and epistemological strongholds.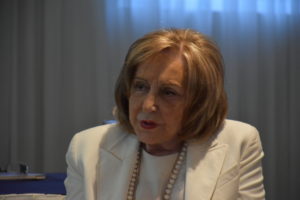 The endless hours I have spent talking with individuals, couples and entire families, in therapy and educational groups, have left me with knowledge and experience I wanted to share with the public and my colleagues.
My goal was to write books that communicate those theoretical ideas that have no homeland and the empirical knowledge, which, standing closer to the so-called popular culture, feeds off our own, distinct pool of resources, patterns of ideas, emotional undercurrent, and actions.
Through the interactions I've had with so many people, it became increasingly clear that personal constructions and choices stem from a collective backdrop. It was thus that I sought to convey our cultural identity through my experience as a therapist; in other words, to convey the Greek patterns of thinking, feeling and acting and write books that exude the scent and taste of our homeland.
The books I have written are a product of a close collaboration with many people, who have contributed to the end result in varying lengths and degrees. The trajectory I have followed alongside my students, colleagues, and our clients has inextricably bound up their lives with my own personal, scholarly and professional path.